I only knew the basics about this musical when entering the theatre. Based on a controversial German play from the 1890s, hit musical on Broadway a couple of years ago, critizicing double standards and lack of sexual education for youngsters. Yeah.
As an experiment I decided not to buy a programme when I went to see the Oslo production, and instead see how I could follow the story when only knowing the basics.
And yes, there will be spoilers. OSLO NYE TEATER, APRIL 8. 2010, 19:30CROWD:
a hundred thousand teenagers, a couple of teachers, and me.
SEATING:
got a rush ticket for NOK 150,- (very cheap), one seat left in row 4, which in reality is row 3. Good!
ORCHESTRA:
small, but good, a nice mix of strings and "rock" instruments.
STAGE:
a sort of plywood tribuna/staircase with huuuge steps. Kinds cheaplooking, but effective.
COSTUMES:
a laidback, rural quasi-19th century style. More on that later.
DIRECTOR:
Kjersti Horn
SCENOGRAPHY:
Sven Haraldsson
CHOREOGRAPHY:
Jan Nicolai Wesnes
NORWEGIAN LYRICS:
Håvard Rem (he always do juicy stuff)
CAST:
Melcior: Jens-Petter Olsen
Wendla: Sofie Bjerketvedt (u/s)
Moritz: Adil
Adult men: Geir Kvarme
Adult women: Helle Haugen
Ilse: Trude Øines
Georg: Espen B: Kristoffersen
Martha: Emilie S. Christensen
Thea: Heidi Ruud Ellingsen
Anna: Usually played by Sofie Bjerktvedt, but since she played Wendla I have no clue
Hänscen: Sten Bjørge
Ernst: Thomas B. Ottesen
Plus others?
I didn't buy a programme, and they didn't have any sort of cast board whatsoever. So I hope, but can't guarantee that the list above is correct.
BEFORE THE SHOW:
The cast goofed around to modern music (Michael Jackson etc). Anachronism o'hoy.
ACT 1:
The u/s Wendla had a beautiful voice and nice and calm stage presence. "
Mama who bore me" (Mamma som bar meg)
was quite beautiful and made me look forward to the rest of the show. Loved the lady playing the mother (Helle Haugen), she had such a strong and pretty face and even all the times she just sat on stage, staring out in the blank, she acted well.
The Latin class was amusing. Another excellent adult, the teacher played by Geir Kvarme. Displayed a range of emotions with minimal acting. Also liked the reaction of the students, and the fact that the girls were sitting right in front of the audience, embroidering. The song was pretty dull, though. And after a while the choreograph started reminding me of the spelling in
"Supercalifragilisticexpialidocious"
...
The lead role Moritz was played by Adil, which is more of a dancer than an actor. When that is said, he did fine.
Costume details: the grown-up woman wore a bodice reminding a LOT of the Madame Giry one. Most in the cast wore either modern Converse-like shoes or lacing boots. They also sat and read modern schoolbooks, with the covers facing the audience. Another anachronism, though I of course realize they wanted the youths in the audience to identify the items and relate.
OK so then three of the girls sing a song that seems to belong in "
Eurovision Song Contest
" (
My Junk / Mitt dop er deg
). WTF? Luckilly it's brief... But oi, the continuing part is brave. Masturbations and orgasms o'hoy. I'm actually impressed by how natural, yet desperate it seemed. The song
"Touch me" (Rør meg)
had some awesome choreography, seeing how the tribuna must be hard to climb. But it was used to its benefit instead.
The other lead role Melchior is played by a youngster (Jens-Petter Olsen) who looks like an arian god. He has a gorgeous voice, is tall, blonde and athletic, and as a genuinely good actor too. Never heard of him before, so was positively surprised. And happy, since much of the show is about or centers around Melchior.
In the scenes where Melchior and Wendla is out in the forest/nature, the others pretend to be birds. Hilarious!
ANOTHER teen angst song? Oh Lord... Actually a nice tune (
"The word of your body" AKA "Jeg vil bli såret"
, I think), but a bit tired of teenager feelings now...
It dawned on me the grown ups were playing DIFFERENT parts... Aaah, explains a lot. I thought their characters were a bit shifty and incoherent... What about a bigger costume change than adding glasses or combing the hair to one side? It was hard to forget masturbation and whipping done by one of their characters when they suddenly played "good" characters in the exact same clothes.
The song about abuse and whatever was probably very important, but honestly it gave me nothing.
Cool "heartbeat" choreography during
"The mirror-blue night"
.
The u/s Wendla started annoying me after a bit. She made a lot of silly faces. I liked the calmness she displayed in the beginning of the show. But I still liked her.
Oh no, the cast run out in the audience. SOOOO 1990s! But nice way to get rid of the ensemble so the love birds was left alone on stage, haha.
End of act one ended with a bang! So Melchior and Wendla ended up having sex, and ahem, the actor really showed it all. When done, he turned to the audience and asked for a 20 minutes break. Light out. Thunderous laughter. I chuckled too.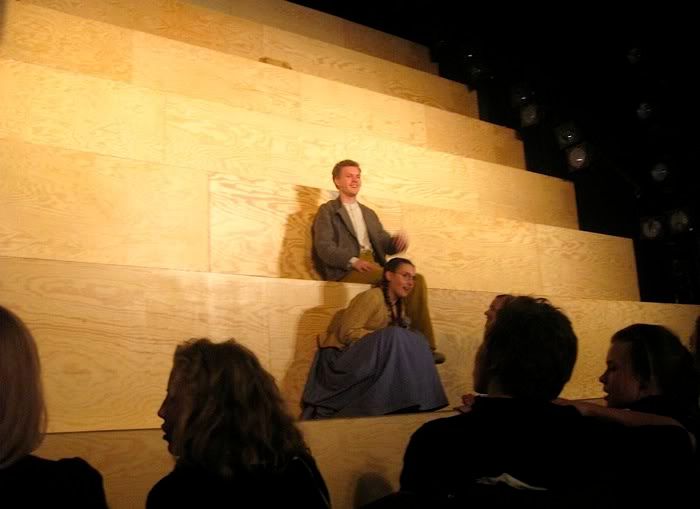 The scenography. VERY different from the original design... But as the choreographer had made the most out of it, this concept seemed to work very well. I liked it a lot more than expected.
ACT 2:
Act 2 started with a scene showing the confirmation, the Protestant equivalent of the Bar mitzva. It soon enough glide over to a scene where everybody seemed to fondle everybody. Minus the adults, that is - the mother was in prayer, the (now) priest held a Bible. OK...
Moritz sung another song;
"Don't do sadness / Blue Wind"
. Tons of smoke on stage. Didn't catch a word of the lyrics. I found myself feeling very ambivalent. Nothing really got to me. Not even the rhythm, hohohoh.
Ilsa, which BTW looked like a cute teenage version of Annie, with big curly red hair, sung a song. Which one, you said? I totally lost track on names and melody, they all seemed the same to me. I remember she was totally drunk in the beginning of the scene, and not so much in the end of it. And Moritz was there. They quarreled. He was about to take his life, she was too drunk to notice, he went off and took his life. OK.
The actual suicide was well staged, as he just climbed up the stair/tribuna and disappeared, and his father cried out "NOOOOOO!". The cast wrote his name and drew a cross on the plywood, lit candles and placed flowers and pictures there. very much like what you see where someone die in a car crash and similar. Worked very well. And then they song another whatever-song (
"Left behind"
).
Oh no, a "cool" teenager song coming up... Melchior is confronted by head master and teacher about the pornographic stuff he made Mauritz. Guilty as charged? Hell yeah (enter quasi rock song AKA
"Totally Fucked" / "Føkka"
). Bla-bla-bla.... But it was a bit amusing to see the face of an elder lady in my row when one of the guys climed on the backs of the seats during that song, and he stood dancing over her.
Guy love - heeey! Cute guys, but very modest love scene compared to some of the other stuff. And the rest of the second act one of them just laid on the chest of the other. Love is in the air.
Another booooooooooring song. Is this really a musical?
So Wendla is pregnant. She is seriously in love with Melchior. He seems to love her. Now tell me again, why couldn't they marry, have the baby, and live happily ever after? This is not explained at all. The scenes concerning this was acted out very well, in a minimalistic and effective way, but the actual plot didn't make sense to me.
OK, so Wendla died too. M-hmmm. Another name and cross scribbled on the plywood tribuna, more candles and flowers. Transformed it into a graveyard, which worked well, especially when Melchior came looking for her and just found her grave. Now he wanna kill himself.
Seriously, I'm cold. I wanna go home.
Mauritz enters, with big black wings. And whaddayaknow, Wendla does the same. Don't diiiiiiiie, Melchior, you must liiiiiive. AKA
"Those you've known"
.
Look down, don't laugh....
BOOOOORED!
An ensemble song, great. This must mean they're wrapping up for the evening, yes?
"The song of purple summer" (En blodrød sommer)
. One more verse? Oh Lord. Don't yawn, not when all the lights are on, and you're in row 4. They'll see you. I'm hungry. And still cold. Can I go home now?
Clearly, this just wasn't my cup of tea. I mean, I liked the design concept, I liked he cast, I liked the orchestra, I liked the lyrics. But OMG what a drab musical, despite juicy theme. I don't think I've ever heard more forgettable music, and I didn't really connect with any of the characters. I'm too old, or too cynical, or something. This was a dull, dull evening.
Short video + pictures here: http://www.oslonye.no/forestillinger/34640_bilde_15.html
I'm in love with the music from the show, but the story just doesn't appeal to me. So it really wasn't too difficult to not see it when it was in Dallas as recently as last week.

phantomphan1992




Posts

: 223


Join date

: 2009-10-01


Age

: 31


Location

: Dallas, TX



Actually going to see a regional production of this on October 1. I have to write three critiques for my theatre class, so I thought I might as well see it while it's playing. I'm actually fairly excited about it. The actor who I saw as Henry in Next to Normal mentioned at the stage door that he would be in this production. And it doesn't help that the tickets ended up being half of what I thought I would pay.

phantomphan1992




Posts

: 223


Join date

: 2009-10-01


Age

: 31


Location

: Dallas, TX



I was disappointed when I went to see the London production, which unfortunately flopped and may be the reason why Next to Normal isn't transferring. I liked a lot of the music and have the cast album on my iTunes, but the purple prose lyrics started to become a bit irritating, though my main beef was it was the complete watering-down of the original material (I am a fan of Wedekind's original play)...such as the gay scenes being played for laughs (strange, when almost the entire creative team is gay) instead of seriously, as if it were too uncomfortable to do that, and the ridiculous "Oh, they'll always live in my heart" sentiment at the end. The ending of the original play is completely different, but perhaps too weird for a musical audience to accept. I couldn't help see echoes of "Come with meeeee, where chaaaaiiiins will never biiiiind you" at the end of Act 2 too.
So I saw this last night. Not going to into too much detail right now (though once I'm finished with my critique for my class, I'll probably write a review), but I will say, I was amazed by this production. As far as direction goes, this is the most brilliant show I've ever seen.

As I said, I'll try to write a review to post here when I'm done with my critique. There's so much I want to say about it, but I only have 3 pages to talk about it in my critique.

phantomphan1992




Posts

: 223


Join date

: 2009-10-01


Age

: 31


Location

: Dallas, TX



---
Permissions in this forum:
You
cannot
reply to topics in this forum